6 Picks is taking a break for the holidays, which means this final 6 Picks of 2011 technically includes events for the next two weeks (although you may not notice, since all of our picks happen to be released this week). We've also thrown in a bonus pick for good measure. Our weekly updates will resume in January.
The Girl with the Dragon Tattoo Read Reviews

In theaters Tuesday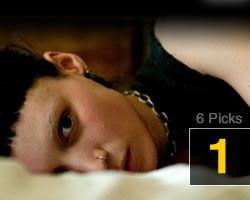 Director David Fincher (The Social Network) and screenwriter Steven Zaillian (Moneyball) have re-adapted the insanely popular first part of Stieg Larsson's Millennium series, The Girl with the Dragon Tattoo (or, in the original Swedish title, Men Who Hate Women). Opening Tuesday, the new film stars Daniel Craig as the crusading Mikael Blomkvist and Rooney Mara as the brilliant yet damaged Lisbeth Salander as they investigate a decades-old cold case involving a missing girl. The impressive supporting cast includes Christopher Plummer, Joely Richardson, Goran Višnjić, Stellan Skarsgård, and Robin Wright. The slick (though dark) Hollywood production has been receiving mostly favorable reviews, while fans of the original 2009 Swedish adaptation can see its stars Michael Nyqvist and Noomi Rapace in Dragon Tattoo's two biggest competitors in multiplexes this week: Mission: Impossible Ghost Protocol and Sherlock Holmes: A Game of Shadows.
Hunt a killer of women at the official website.
Star Wars: The Old Republic Read Reviews


New PC game officially in stores beginning Tuesday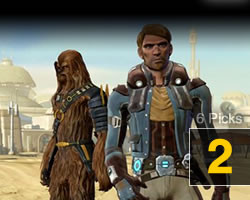 2011 has already been one of the biggest years ever for video games, but there's one more gigantic game yet to be released. The oft-delayed massively-multiplayer online role-playing game Star Wars: The Old Republic is finally being released Tuesday to ensure that you won't be bored for one second of your holiday break, though a few lucky people have already gotten an early start. The game from BioWare (best known for its popular Mass Effect and Dragon Age franchises), EA, and LucasArts is a rare story-driven MMORPG that explores the roots of the Star Wars universe as the Republic and the Sith do battle thousands of years before Anakin Skywalker ever killed anyone. You can choose to play as a Sith, Jedi, or something a little less black-and-white, like a bounty hunter. Another pretty cool change is the addition of space battles instead of walking on foot the whole time.
The delayed force is with you at the official website.
War Horse Read Reviews

In theaters Sunday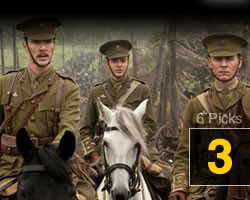 One of two Steven Spielberg films arriving in American theaters this week is this live-action adaptation of the popular play War Horse, which was itself an adaptation of Michael Morpurgo's book of the same name. Opening on Christmas day, the movie does away with the stage production's distinctive horse puppet and instead goes for lush period realism in the tale of a horse (Joey) that takes part in both the German and British armies during World War I. Joey's owner Albert Narracott is played by Jeremy Irvine, and he's joined by an international cast that includes Emily Watson, David Thewlis, Benedict Cumberbatch, Peter Mullan, and Tom Hiddleston. Some of Spielberg's frequent collaborators—composer John Williams, cinematographer Janusz Kamiński, and editor Michael Kahn—have all saddled up for this big end-of-the-year drama, and Oscar nominations could be in store.
Saddle up at the official website.
The Adventures of Tintin Read Reviews

In theaters Wednesday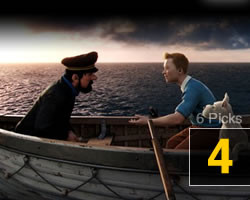 Already playing to strong box returns overseas as The Adventures of Tintin: The Secret of the Unicorn, the shortened (in title only) The Adventures of Tintin finally opens on U.S. shores this Wednesday in 3D. Based on the popular Belgian comics by Hergé, the film (based on 1940s-era stories The Crab with the Golden Claws, The Secret of the Unicorn, and Red Rackham's Treasure) is directed by Steven Spielberg (using motion-capture animation), working from a script by Steven Moffat (Doctor Who), Edgar Wright (Shaun of the Dead), and Joe Cornish (Attack the Block). The action-adventure stars Jamie Bell as young journalist/adventurer Tintin, Daniel Craig as pirate Red Rackham, Andy Serkis as saucy Captain Haddock, and also features animated versions of Simon Pegg, Nick Frost, and Cary Elwes.
Set sail for adventure at the official website.
Extremely Loud and Incredibly Close Read Reviews

In limited release beginning Sunday (wider on Jan. 20)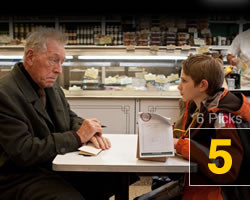 'Tis the season for 9/11 dramas? Opening Christmas day in limited release and expanding in January is an adaptation of Jonathan Safran Foer's novel Extremely Loud & Incredibly Close. Directed by Stephen Daldry (Billy Elliot, The Hours), adapted by Eric Roth (Forrest Gump), and starring Tom Hanks and Sandra Bullock, the film has awards pedigree written all over it. The drama centers on Oskar Schell (Thomas Horn), a 10-year-old boy who loses his father in the World Trade Center attacks and tracks down a lock box that fits a key that his father left him, a journey that will lead him to unlock the mystery of his family's history. Along the way, he runs into a stellar supporting cast that includes Max von Sydow, John Goodman, James Gandolfini, Jeffrey Wright, and Viola Davis.
Begin your search at the official website.
We Bought a Zoo Read Reviews

In theaters Friday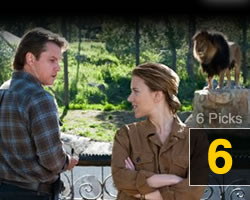 Writer/director Cameron Crowe (Jerry Maguire) finally follows up his disappointing 2005 feature Elizabethtown with an adaptation of British journalist Benjamin Mee's 2008 memoir We Bought a Zoo. The film, opening Friday, moves the book's locale from England to Southern California and follows a widower (Matt Damon) who must help his two kids and himself deal with their loss after he moves his family to a run-down zoo. While refurbishing the zoo, he and his son (Colin Ford) work through their issues and become smitten with two ladies (Scarlett Johansson and Elle Fanning). Crowe fans will be happy to see Almost Famous star Patrick Fugit in a supporting role. Other notable support is provided by Thomas Haden Church and Curb Your Enthusiasm's Leon himself, J.B. Smoove. Crowe always has good music in his movies, and this time Jónsi from Icelandic band Sigur Rós both composed and wrote new songs for the score.
The Zoo completes you at the official website.
Bonus Pick:


Wait Wait Don't Tell Me and The Nerdist


Year-end specials airing Friday at 8p and Saturday at 9p

on BBC America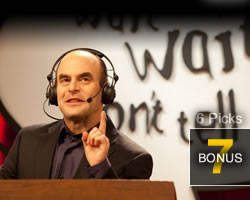 This weekend, BBC America offers two different approaches to the year-in-review show, each featuring franchises that are usually heard but not seen. Friday at 8pm, NPR's irreverent news quiz Wait Wait Don't Tell Me moves to TV for the first time with a special 2011 in review episode, giving longtime fans a chance to see what hosts Peter Sagal and Carl Kasell (joined by a panel of comedians led by Paula Poundstone) actually look like. And Saturday at 9pm brings Chris Hardwick's Nerdist podcast to the small screen for a second time. Helping the host recap the year in pop culture will be Simon Pegg, Wil Wheaton, Nathan Fillion, and more guests familiar to the media-loving geeks among us.
Learn more about radio on the TV at the official BBC America site, NPR's Wait Wait Don't Tell Me site, or Chris Hardwick's Nerdist site.
Closing the book on last week
Weekend Box Office Champion (Estimated, U.S. only; source: Boxofficemojo.com)
Sherlock Holmes: A Game of Shadows

xxx

$40.0 million; 1st week at #1
#1 Album on Billboard 200 (Source: Billboard.com/Nielsen SoundScan)
Michael Bublé: Christmas
3rd week at #1
Top-Rated Primetime Broadcast Show (Source: Nielsen)
Sunday Night Football (NBC)
24.5 million viewers; week of 12/5-12/11